Passing a sign by the side of the road 'Herbs For Sale £1 each' I stopped and bought a few. I planted them and started researching the background of Soapwort. It's history was facinating. Even now some museums use Soapwort's gentle cleansing powers to clean and preserve ancient tapestries, just as they did in medieval times.
During November 2016 we decided on the area to use for the herb garden. Shade was the only problem. However, some herbs do like shade. We bought a small polytunnel and I started growing herbs from seed. Ready to be planted out the following Spring.
I went to the local wood yard and asked them to cut me eight 1 metre lengths of board. These were screwed together, the ground dug and compost added. The natural soil is clay. Our two first herb gardens were born! To save costs I found cut logs to make the third garden and again dug and filled it with compost.
I continued to buy the herb plants in pots from the stall to start me off, as they soon grew quickly once they were in the ground. I added what herbs I had to the gardens, Soapwort, Bowles Mint, Basil, Thyme, Lemon Balm, Lavender, Sage, Dill, Rosemary and Penny Royal. In no time at all the garden was starting to take shape. I did purchase the odd plant over the net that looked intriguing, Giant Blue Hysopp, Lemon Verbena and a Lime Tree. Not having a clue at this stage what likes to be planted where, but the fact that most herbs like a drained bed, my raised beds provided this, even though clay was below them and held the water.
There is so much to learn when you start researching herbs, especially online, and it did get quite overwhelming as to what direction to go with the garden. So much choice and still so much to learn about them.
Did I want to grow culinary herbs, ones scented for potpourri, perhaps medicinal types, drying for decoration or making teas? A lot of herbs cross over to give a bit of everything you need, such as Lavender.
I found I was buying seeds to grow just because I liked the look of the herb, as so much knowledge was still to be gained. We put up a fence and started to develop the garden.
Apart from buying many books (some very interesting American ones) I also started an online Master Herbalist (Phytotherapy) Diploma Course. Not that I want to become a hebalist, but the Groupon deal was hard to resist! The course is really interesting and has taught me the true history of herbs from the year dot to now. The knowledge I am gaining has given me the background about so many herbs, where grown and what they were/are used for. What I found interesting is that many of the medicines manufactured today started their lives from the properties found in ancient herbs. Research into thier effects on healing the human body was investigated. It seems as though life is turning full circle, as herbs are used more and more today, as we look at getting away from some drugs that sometimes give us awful side effects.
Joining the Herb Society has also given me a good source of information http://herbsociety.org.uk/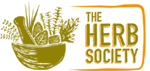 The seedlings were doing very well and the garden started to come to life as Spring 2017 approached. All the efforts of the previous few months started to pay off. Especially as I was getting the taste of teas made from my fresh herbs. Sage and Hysopp being my favourites. No one visited without taking away a gift of some kind of herb. Hopefully inspiring others to get herbing too!